Regular price
Rs. 1,499.00
Sale price
Rs. 999.00
Unit price
per
-33% OFF
Sold out
Free Shipping | COD Available
OFFERS
New Users can avail 10% discount on their first order. Cannot be clubbed with any other offers.
Get 4 products for the price of 3! Just add ANY 4 products to your cart and automatically LOWEST Priced product will show as FREE at Checkout. Cannot be clubbed with any other offers.
W.O.W. Perfumes 
provides 
The Man Stash
 a set of four fragrances of 30 ml each.
Fancy packaging & unique scents will appeal to men of all age groups.
This gift set contains:

BLACK JACK 30 ml
Perfume with a revitalizing fragrance for the confident men of today.
It has a spicy citrus fresh top note with an intoxicating patchouli character at the heart, ideal for the tough man of today.
IS-MIAMI 30 ml
It has a citrus fresh aqua fragrance for the trendy men of today. It has a citrus lemony top note and provides a fresh aqua note at the heart, ideal for the sporty men of today.
SWISS DESIRE 30 ml 
This Perfume 'Swiss Desire' is ideal for the Youth of today. This Fragrance has Neroli, Apple & Bergamot at the top that has a very lingering and Vanilla & Musk at the Base. Highly recommended for Party wear, Gym wear, Evening wear, Night wear.


AQUATISM 30 ml
This Perfume 'Aquatism' gives you a clean, fresh & out of the shower feeling all throughout the day! With an Aqua, Citrus, Fresh, Top Note and Amber, Musk, Cedarwood, Oakmoss at the Base, which make it last through the day!
Share
View full details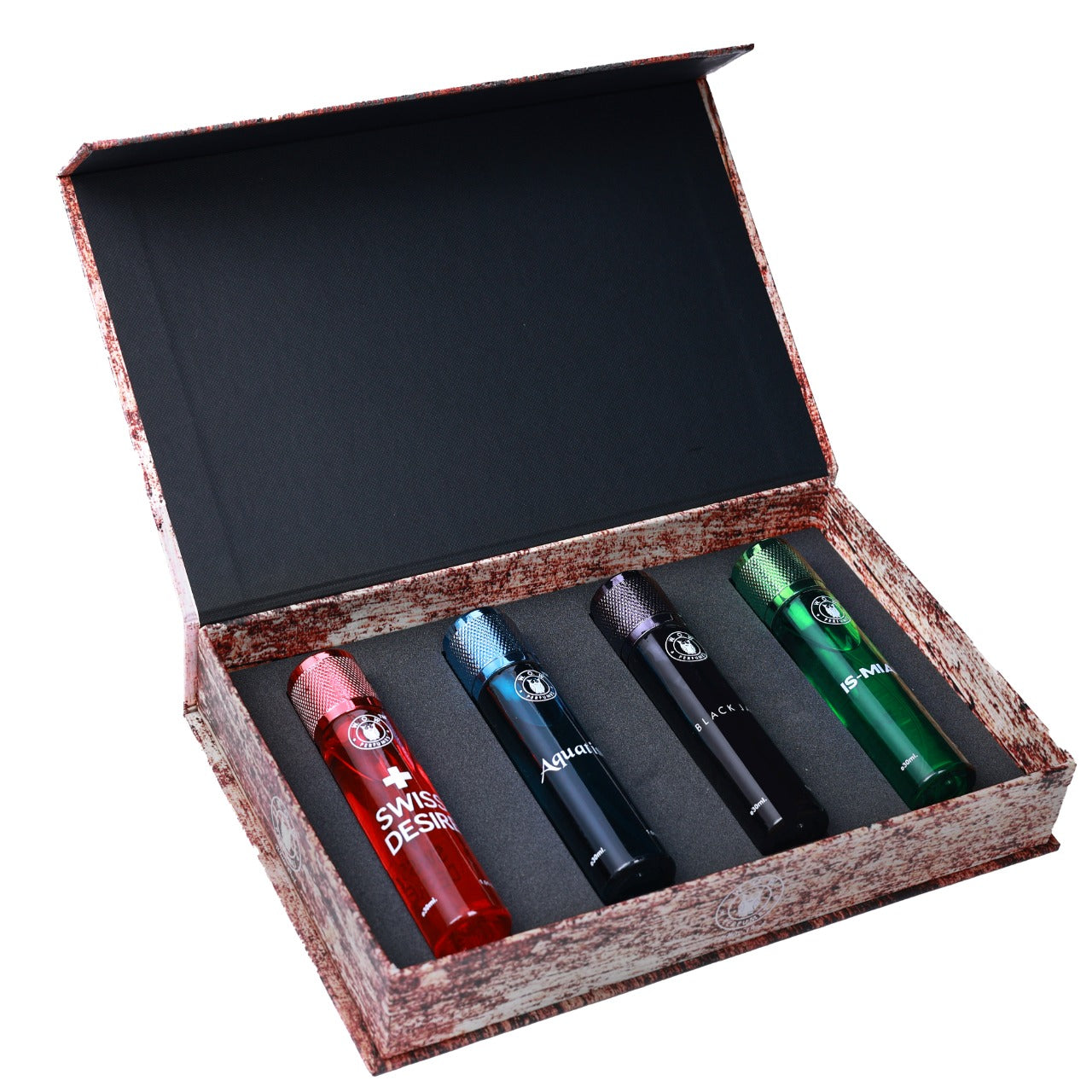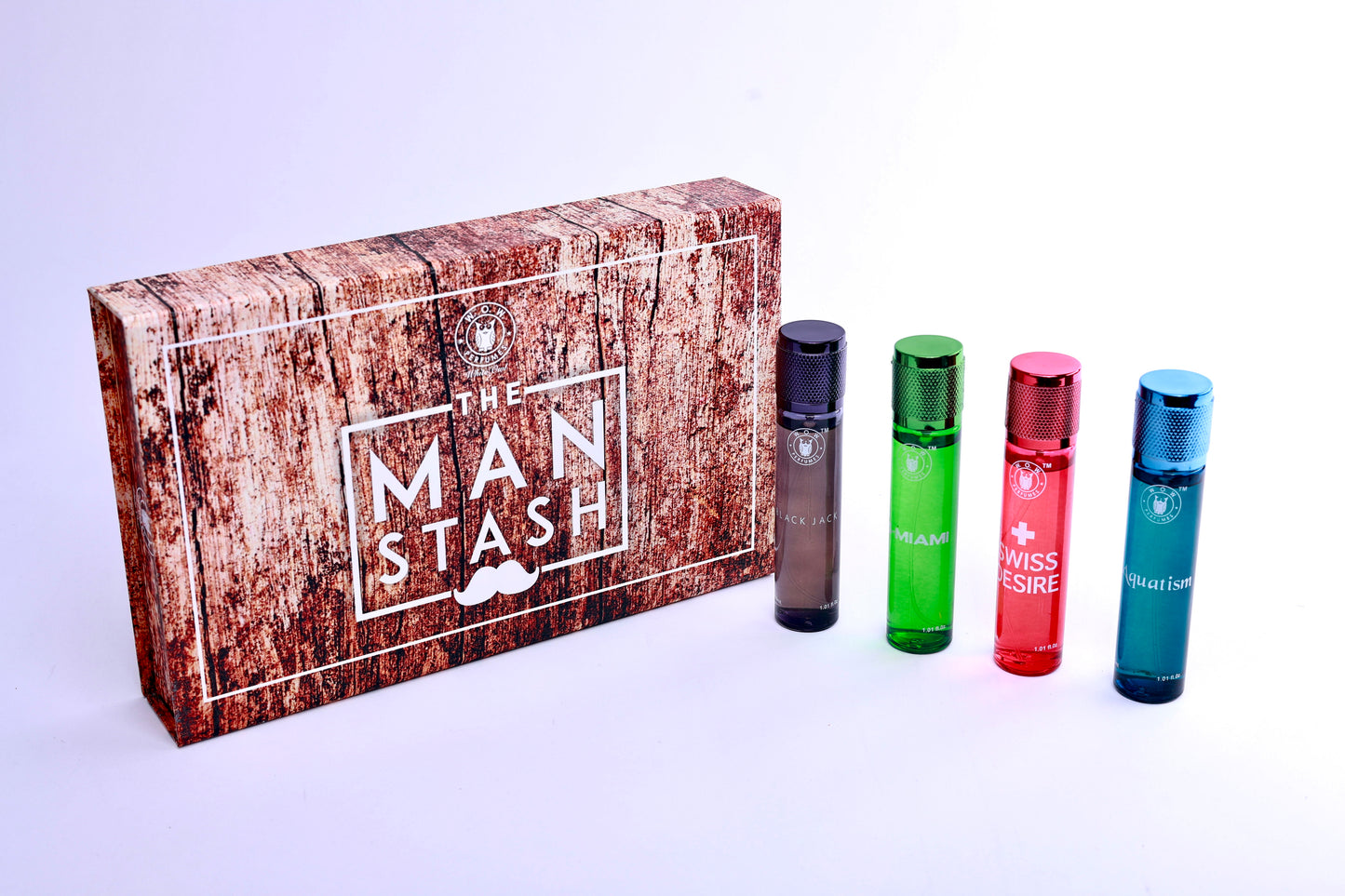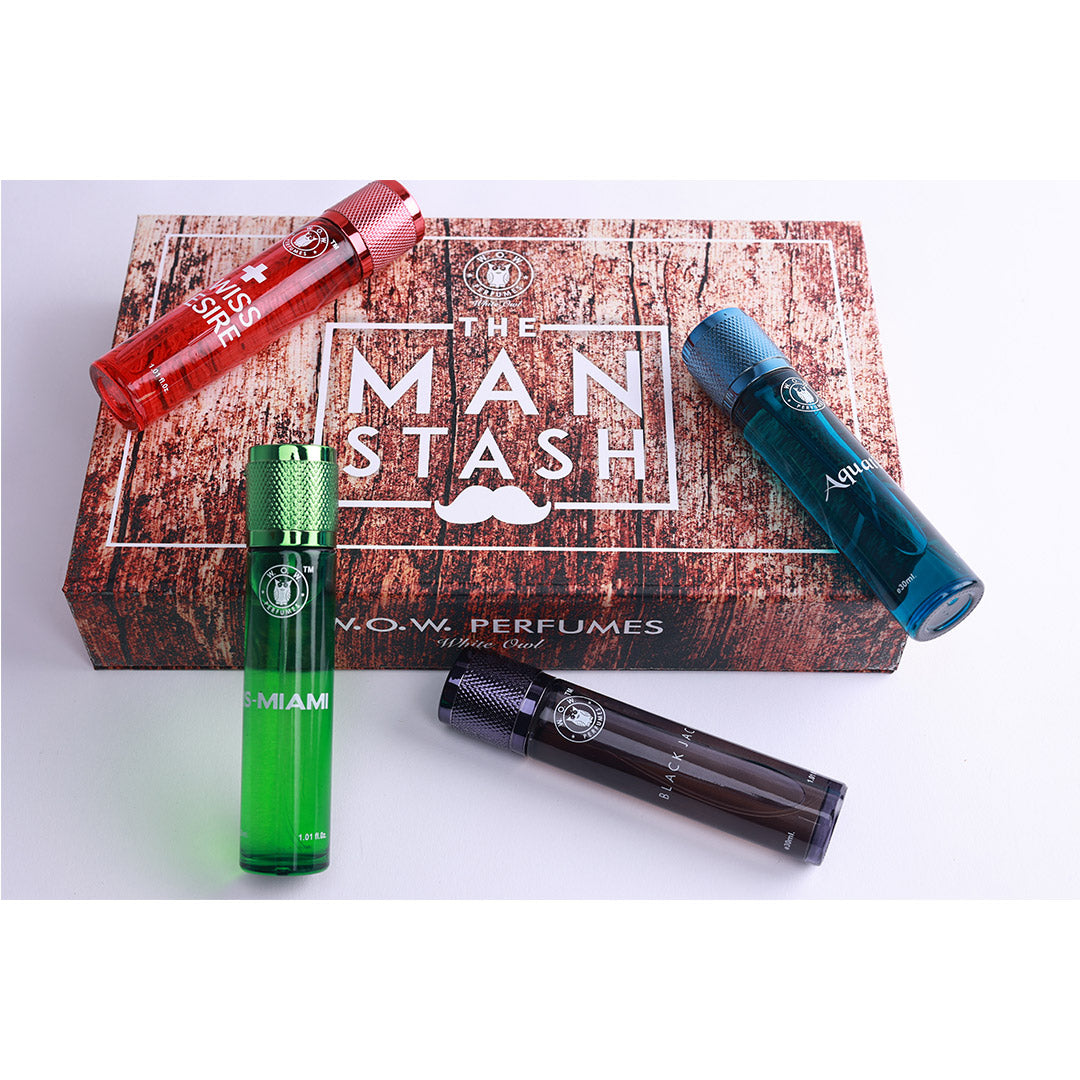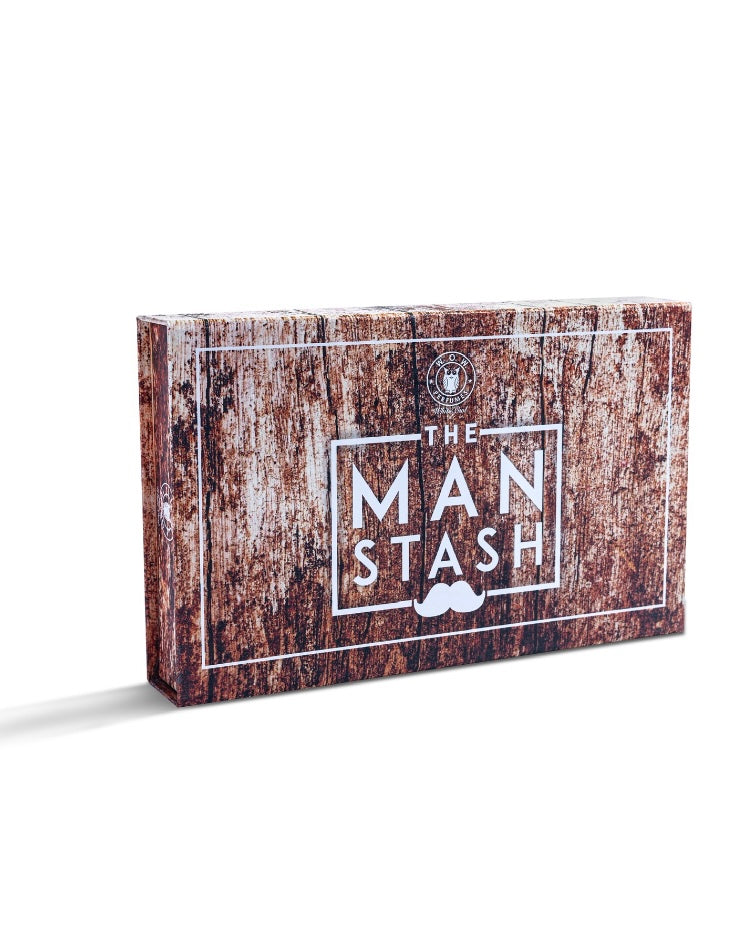 FRAGRANCE NOTES
☛ Top Notes:
This Fragrance has a Aqua, Citrus, Fresh, Top Note with hints of Lavender

☛ Middle Notes:
The beauty of this perfume is the perfect blend of its middle notes which comprises of Geranium and Sandalwood which give it the perfect rounding to make stand out!

☛ Base Notes:
The base is the key to this wonderful fragrance which comprises of Amber, Musk, Cedarwood, Oakmoss which make it last through the day!
Buy Now
What our customers are saying !!
What our customers are saying !!
***** Best Perfume Ever Used

This is the best Perfume I used in my life. This is the second time I ordered this. I used more then 50 deos and perfumes but no on asked me which did you use. After using this many people asked me which Perfume did u use. They liked it very much. Even unknown person in my office came to me and asked me. BEST BEST BEST. I also recommended this Perfume to my friends and many of them actually bought it. 10 STARS

- Utsav

***** Better than David off cool water at almost half the price!!

Amazing perfume...my colleagues walking by are searching who has sprayed this wonderful stuff....when u spray this it smells like David off but after 5 mins it smells different than David off..I would say it smells much much better than David off..i also have davidoff coolwater perfume which my friend gifted me from US.I would suggest this to those who like the smell of David off cool water, as it's quite similar...it's a perfect summer perfume spray....close your eyes and go for this...

- Prasad Wadkar

***** Nice Perfume

Nice perfume.. Stays for more than 8hrs for me... It depends upon ur body smell also.. And how ur body reacts to the perfume... But for me... 9hrs.. More than wat i asked for...

- Rajesh Nadar
We are trustworthy !!!
50 Year Legacy

Long Lasting

Secure Payments

30,000+ Customers

Free Shipping
Product FAQ's
FAQ's
Is this Long Lasting?
A: Yes this is a Very Long Lasting Fragrance. If you apply this perfume in the morning it will last through the day till the evening.
Is this a Glass Bottle?
A: Yes! This Perfume comes in a 100 ml Glass bottle. This Perfume comes with its own box (Mono-carton) and is further tightly packed in a cardboard outer box to protect it from any damages in courier / transit.
Is COD Available?
A: Yes Cash of Delivery (COD) is available on all orders above Rs. 399.00/-. Extra Rs. 40/- will be charged on all COD orders.  
There is No additional Charge on Pre-Paid Orders!
Is Shipping Free?
A: Yes Shipping / Courier Charges are FREE on all Orders across India.